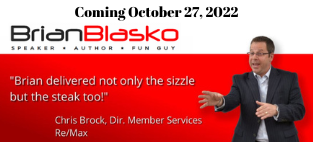 One person is an individual… Two people are a couple…Three or more people together become a group…but only the "successful" can become a Team! Come join Brian Blasko as he takes you on an unforgettable journey into the world of effective team building and morale boosting. If you want your employees to feel comfortable with each other and know how to understand one another, then this is the session for you! Brian's workshop will give you the leadership skills, strategies and techniques to work positively with others at work, home and beyond….
​
Learn the positive benefits of Interdependency
Learn how to deal with "team" apprehension
Learn how to overcome negative team attitudes
Learn how to build, trust, rapport, and credibility with others
Learn how to motivate others to create greater productivity
Learn how to resolve team conflict
Learn the 10 characteristics of a great team player
This session will be highly interactive! The group will learn techniques and skills through experiential learning. It will be a "hands-on" workshop that will benefit you and your employees tremendously.