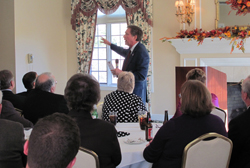 The Lima/Allen County Chamber of Commerce believes in advocating for our businesses as well as our community. Within this section you will see how the Chamber works for our local businesses on a legislative level as well as for the community to help provide a vision and advancement opportunities.
We especially need to represent small businesses which do not have the time or resources to focus on legislative issues that impact their businesses. Therefore we step in to become the leading pro-business advocate on legislative and development related issues for business.
The website www.ohiobusinessvotes.org was developed to provide tools to contact elected officials – influencing officials on issues important to business; and educate members on political processes.
The Chamber has supported and taken a position on several pieces of legislation affecting our members' businesses bottom-line. We meet with state and federal legislators on a regular basis; and host public forums and debates to keep the community updated on legislative issues.
We have actively taken a stance and lobbied on several issues, including:
Ohio Workers' Compensation Group Rating Program
Healthy Families Sick Leave Act
High Speed Rail
Employee Free Choice Act (Card Check)
State of Ohio Budget
The re-opening/re-use of Lima Correctional Institution
Third Frontier
Tort Reform and the Reduction of Taxes on Businesses
Counterfeiting and Piracy Legislation dealing with Intellectual Property Rights
U.S. Automotive Manufacturer's Loan Request
…and several other issues impacting our area businesses and community
Locally the Chamber took action on the P&G warehouse expansion, supported stricter but fairer legislation regarding the City of Lima Billboard legislation, and studied Allen County sales tax proposal.
The Chamber of Commerce often partners with other local community and business-based organizations to work on initiatives that are important to the area. A few of these efforts are highlighted below.
LCI Task Force:
The Lima Correctional Institute's Task Force was developed through a partnership between the Chamber, The City of Lima, Allen County Commissioners, Allen Economic Development Group and other state elected offices, union representatives and local business leaders. The Task Force worked collaboratively with the State of Ohio, state legislators and the Department of Corrections to develop a feasibility study focused on the impact of re-using or re-opening LCI. The recommendation to the Governor was to recognize the economic impact the facility had on the community upon its closing. LCI will in turn become one of the first facilities to re-open when the need arises to expand upon existing dormitory style prison facilities within the region.
Allen 2020:
In an effort to develop a vision for the Lima/Allen County community, the Chamber worked collectively with Common Threads to create the "Allen 2020" citizen-driven project. The Allen 2020 program is a community visioning effort designed to focus on the planned growth of our region and provide a vision of what community members would like to see this area look like in the year 2020. Through this effort, 10 teams were organized and goals and objectives were developed, however, five "common threads" appeared repeatedly in the final proposals.
These common themes include: practice collaboration, partnership and inclusion; increase communication among public, private, civic groups and citizens; enhance the use of technology among government groups and among community sectors; eliminate duplicate agencies by establishing county consortium's; provide public education and awareness opportunities to engage citizens and foster informed decision-making. Addressing these themes, presenting them to the community and taking actionable steps is now leading the Allen 2020 efforts toward the planned growth of Lima/Allen County.
Community Branding:
The Chamber of Commerce worked side-by-side with several organizations, business leaders and City Officials, along with North Star Destinations to develop a cohesive, community brand. The branding effort will in turn help to unify our region and make Lima/Allen County a sought-after destination for work and play.
The theme of Real American Strength was developed after countless hours, meetings, surveys, and community polls. This theme notes that we are more than a city or county, we are a place that is more than the simple sum of all its people and places. It personifies our Midwestern work ethic and values as well as our productivity, culture and quality of life. The community brand is now visible throughout the county on billboards, buses and in local businesses as many have pledged to adopt the brand and incorporate it into their existing marketing materials.
458 Regional Postal Task Force:
The Lima Mail Processing Center processed over 386 million pieces of mail in 2009, ranking #1 out of the 268 centers operated by the U.S. Post Office. In 2009 our community was faced with the possibility of this processing center being closed, eliminating over 100 jobs in our community, delaying mail service and making it more costly for local businesses to utilizing postal services.
In an effort to preserve the Lima Processing Center, the Chamber along with several other business leaders, government officials and private citizens formed a task force. The purpose of this task force was to highlight the detrimental effects of this facility's closing and what those effects would mean not only to our community but also the surrounding 8 county areas that utilized the processing center. Ultimately, the U.S. Postal Service consolidated the Lima Mail Processing Center with the Toledo Center and then closed the Lima Processing Center in 2010.
Click here for additional detailed community impact efforts.