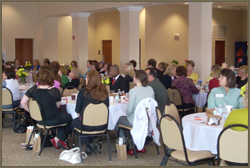 The Lima/Allen County Chamber of Commerce hosts several annual events and programs. These events are open to all Chamber of Commerce members. This is a great opportunity for you and your employees to network with other Chamber members, as well as for your business to advertise in front of a captive audience. We currently hold weekly, monthly, quarterly and annual programs that are specifically targeted towards different audiences and content to help you stay connected.
For information on how you, your employees and your business can participate in any of these events, contact the Programs Team at the Chamber of Commerce or at 419.222.6045.
Annual Breakfast
The Lima/Allen County Chamber would like to invite you to our Annual Breakfast where we will discuss the previous year accomplishments and the current goals that impact community development. This event has over 400 attendees. We will also honor our Circle of Influence members and our Ambassador of the Year.
Annual Awards Gala
The Lima/Allen County Chamber of Commerce is pleased to announce the 20th Annual Awards Gala on May 3, 2022. This is an elegant evening with over 350 attendees is where we recognize area businesses and leaders for their outstanding accomplishments.
https://www.amazon.com/photos/shared/PQbFLrzbQTWeKbh9sDrdSg.Ez_p1yJ4TVBbwrbp6Pk_Y8
Chamber Golf Classic
The Chamber of Commerce has been hosting its Annual Golf Classic for over a half-century, making it one of the longest-running and highest attended outing in the area. We annually sell out 2 courses so be sure to register your team today! 18 holes w/cart, lunch, fully stocked goodie bag, and attendees are automatically entered our door prize drawing.
ChamberFest
This annual Las Vegas-style night is the largest event of the year with over 600 attendees and features numerous local restaurants and caterers with FREE samples of their finest cuisine, a full casino with interactive games (only accepting Chamber Chips), Texas Hold 'Em tables, celebrity dealers, a fully-stocked beer garden and auctions overflowing with FABULOUS items!!
Women In Business
The Women in Business luncheon is specifically designed for today's business-woman featuring speakers and presentations that are timely and relevant to topics affecting today's busy female professionals. Currently, over 120 professional women attend this event.
Chamber University Online Training
This monthly online program is designed to provide education on specific topics of relevance such as health, technology, marketing, human resources, employee/employer training. Online Live training and on-demand access are available.
Real American Sunrise
Rise and shine with the Chamber of Commerce! Join us and over 100 other business leaders at this newly revamped monthly breakfast meeting to learn about what is going on within the Greater Lima Region's Communities. Held the last Friday of every month, this popular networking event is a great opportunity to learn about what's going on in the business community and connect with others in an informal environment.
Leads Network
The Leads Network consists of non-competitive businesses taking advantage of opportunities to build business relationships, gain business advice, and generate quality business leads. The Chamber's Leads Network offers groups at different times/dates to accommodate most schedules. When joining the Leads Network, you are assigned to a leads group comprised of a maximum of 25 business people from companies in diverse industries. No competitors will be placed in the same group. Each group meets weekly to exchange business leads and hear testimonials for others whose leads have generated increased sales! Each leads group elects a moderator and is assigned a Chamber staff partner to assist the group. There is a quarterly $25 fee for participation – and members are allowed 3 absences per 6-month period. Substitutes from member companies may attend in the absence of a group member. Habitual absences may result in your removal from the group to allow others the opportunity. Current meeting times: Tuesday, Wednesday, and Thursday at 8:00 am. Click here for an application to join the Leads Network.
Executive Roundtable
The Executive Roundtable program assists top-level managers, business owners, etc., in their desire to improve business performance by structuring opportunities for peer-to-peer cooperative interaction.
This program consists of "Roundtable" groups consisting of no more than 12 executives from non-competing firms, including a trained facilitator. The program requires a one-year commitment to the group – it is imperative that you make this commitment as regularly attending the monthly meetings establishes trust and builds a rapport with group members making the meeting a valuable part of your business. Members often take turns hosting and leading meetings at their place of business – this is not always the case; however, it gives you a chance to showcase your business to a group of peers who have nothing but your business's best interests at heart.
Currently, the Chamber hosts Roundtable groups all meet at different times/dates. You can pick your Roundtable based on your availability, granted there are no competitor businesses already participating in that specific Roundtable. There is a $75 annual registration fee to join this program. Click here for additional information.