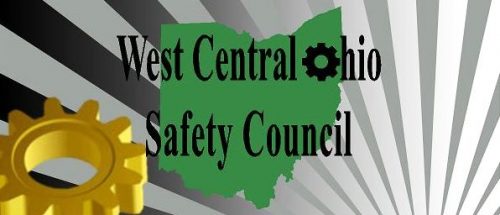 The West Central Ohio Safety Council, founded in 1955, is an organization co-sponsored by the Ohio Bureau of Workers' Compensation, Division of Safety & Hygiene and the Lima/Allen County Chamber of Commerce. Our mission is to increase the awareness and the importance of safety, health, and wellness to area businesses and communities of the West Central Ohio/Greater Lima Region.
To view our meeting dates/topics, member attendance sheet, BWC classes, and eNews, or to download the semi-annual report and/or enrollment form, please click the links below.

WCOSC FY20 Monthly Meeting Schedule
View Active Safety Council Events on the Calendar
Attendance – as of 4/24/2020
Enrollment form
Semi-Annual Report Form
Ruth Kreher Safety Person Nomination Form
WCOSC Community Safety Grant Application
Rebate Information
Meeting Files
Safety Council Newsletters
WCOSC Safety Blog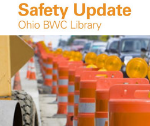 ---
Steering Committee Members
President: Amy Ricker, Lima Pallet Company
Vice President: Crystal Jackson, Husky Lima Refinery
Past President: Craig Hohenbrink, INEOS
Tony Daley, Spallinger Millwright
Mike Meenach, Lima Construction Services
Rose Hesseling, HCF Management
Scott Sweeney, Tuttle Construction
Joe Hutton, Fort Amanda Specialties
Deb Mosher, Institute for Orthopedic Surgery
Dean Bidlack, BWC
Jed Metzger, Chamber Liaison
Safety Council Manager: Deb Katzenmeyer
---
News coverage of 2019 Safety Council Awards Banquet
Lima News article – 2019 Safety Council Awards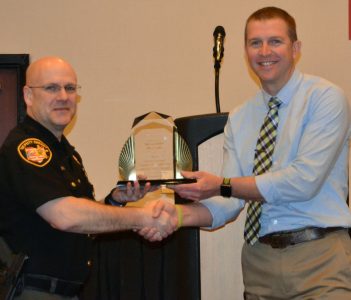 Sgt. Robert Fisher, On-Site Sheriff at Allen County OhioMeansJobs/JFS, received the Ruth Kreher Safety Person of the Year Award at the 63rd Annual West Central Ohio Safety Council Awards Banquet on Tuesday, April 9, 2019.
Also pictured: Craig Hohenbrink, WCOSC President.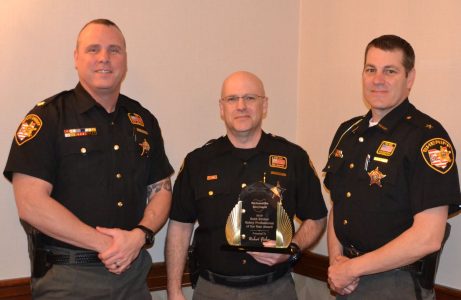 Sgt. Fisher with co-workers from the Allen County Sheriff's Department.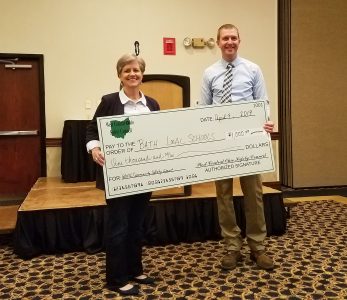 Above: WCOSC Community Safety Grant Recipient
Bath Local Schools – Bus warning lights/signals
Pictured: Keanna McNamara and Craig Hohenbrink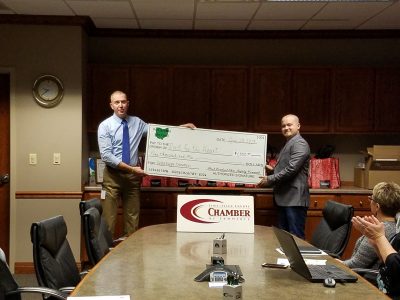 Presentation of $1000.00 check to Justin Davis with Rock for the Heart, West Central Ohio Safety Council's charity donation for 2018.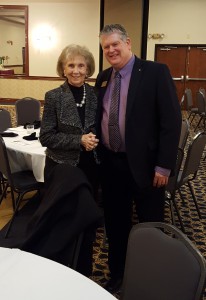 Ruth Kreher, former Safety Council Manager, and Jed Metzger
Media Coverage: 2015 BWC Safety Council of the Year Award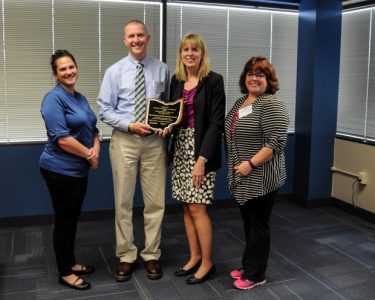 ---
Membership Dues
$200/person – Annual Membership Dues
Covers all 12 regular monthly meetings from July through June
Additional attendees or non-members will be charged per meeting ($15-$30)
---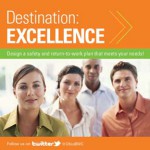 Destination Excellence – the Ohio BWC's bundle of programs designed to help improve workplace safety, enhance injured worker care & lower workers' comp costs. Click the image for more information.
---
Regional Customer Service Office
The Ohio Bureau of Workers' Compensation offers more than 74 occupational safety, health and ergonomic courses for Ohio employees to attend. Classes are available online and held throughout the state at our regional service offices.
One of the benefits for employers with active workers' compensation coverage is there is no additional charge to register their employees for classes. Click on the green button below to view a list of courses available online and at BWC training facilities throughout Ohio.
BWC Safety Services Catalog 2019-2020
For additional information as to how you can participate in Safety Council, contact Deb Katzenmeyer at 419.222.6708 or dkatz@limachamber.com.
Register for courses online using the BWC Learning Center, or call 1-800-644-6292 or 614-995-8622.
BWC Safety Newsletters – Archive
---
Safety + Health Magazine – publication of the National Safety Council
Visit www.sh.nsc.org for online resources and articles
---
Safety Council Goals
Retain and increase membership.
Coordinate membership meetings beyond the BWC program requirements.
Provide opportunities for the BWC to report to the membership on issues of
interest.
Continue the Ruth Kreher Safety Person of the Year Award.
Continue the Community Safety Grant.
Continue to increase online presence through the use of social media and other outlets.
Schedule motivational speaker.
Support the community through donations to Toys4Tots and other local charities.
Collaborate with regional safety councils.
---
West Central Ohio Safety Council Partners

Activate Allen County Newsletters