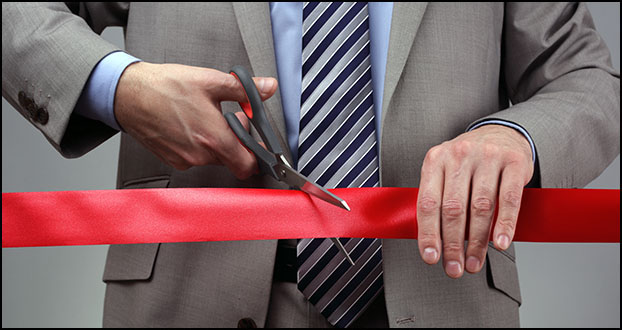 The Chamber of Commerce congratulates all those new or expanding businesses for their efforts!   
The Lima/Allen County Chamber of Commerce Ribbon Cutting and groundbreaking celebrations are a member benefit. They are available for a business' grand opening, expansion, relocation, major anniversary or renovation (not new paint), and groundbreaking ceremonies.  
Future Members will be charged a $50.00 fee for the ceremony. The fee can be used toward annual membership dues within 30 days of the celebration date. The $50.00 must be secured at the time of scheduling the event. 
The following guidelines will assist you in planning a successful event 
Setting the Date

For planning and marketing purposes, ribbon cuttings should be scheduled at least one month in advance and can be scheduled Tuesday-Thursday 9-4 PM. or Fridays before 11 a.m.   It is best to schedule a ribbon cutting on a weekday. The Chamber will coordinate your date selections with the Chamber calendar and try to accommodate one of your preferred dates.

Ribbon cuttings are typically 30 minutes long. Groundbreaking ceremonies and expansions are typically an hour in length.

Please contact Teri Silone, Executive Assistant at 419-222-6045 to schedule and with any questions.

 

The Ceremony

– A typical ribbon cutting is typically no longer than one hour. Out of respect for your guests, it is important to start your ribbon cutting on time. Those who attend will often remain for refreshments, tours and networking.

Prepare a 3–5-minute introduction about your business.




 
Special Benefits the Chamber will include:  
notice of the event to the local media, Chamber Board of Advisors, Chamber Staff, and Chamber Ambassadors.

 

The Chamber will provide ribbon and ceremonial scissors for use during the event. (

Please let the Chamber know if shovels will be present for a groundbreaking ceremony).

 

Certificate of the celebration

 

photo of the ceremony. This photo is shared on all Chamber social media networks, the local media, and in the Chamber monthly newsletter.

 

Facebook Live of the event on the Lima/Allen County Chamber Facebook page.

 
Additional steps for planning a successful Ribbon Cutting/Grand Opening Celebration: 
Create a basic press release and include a 3–5-minute introduction about your business.

 

Secure the business executives, managers and employees to attend the event. Preparing and sending invitations to clients, vendors and the community.

 

Clearly outline and communicate their role in the event such as: speaking at the event or being prepared to converse with guests about the company and reason(s) for hosting the event.

 

Any representatives from your company, friends, family members can hold the ribbon during the cutting. Chamber Ambassadors will be present to help hold the ribbon and fill the photo.

 

Hors d'oeuvres and beverages can be served but are not required; this is your event. You can make it as grand or as simple as you like.

 

We encourage you to have business cards, give-a-ways or coupons for your guests.