Tuttle Services, Inc. is the parent company to Tuttle Construction and Touchstone CPM. Tuttle Construction's beginnings date back to 1928 as a general contractor and has continued to evolve and grown to provide general contracting and specialty self-perform services to diverse industry markets. Touchstone CPM (sister company to Tuttle Construction) is a professional construction planning and management firm with experience in a variety of project delivery methods including design-build, construction manager, and construction manager at risk. Both Tuttle Construction and Touchstone CPM bring proven experience delivering on budget and on schedule solutions for clients in various markets including: industrial, commercial, faith-based, institutional, government, educational, and healthcare.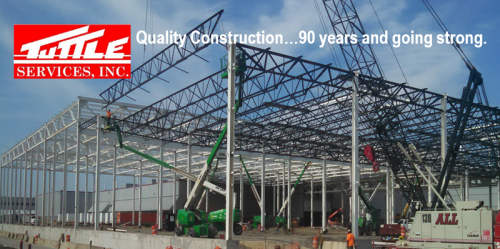 We believe in continuous quality standards and hold ourselves to a higher level than most construction companies. Tuttle is ISO 9001:2008 certified which means quality management systems are implemented within the organization, resulting in increased productivity, reducing unnecessary costs, and ensuring quality processes and end products. These business efficiencies result in our clients receiving high quality construction solutions that consistently exceed customer's expectations.
Protecting our environment and utilizing sustainable materials in building projects is important to Tuttle. Proof of this are the six LEED (Leadership in Energy and Environment Design) professionals on staff who go above and beyond to ensure each project evaluates the use of energy efficient and green building materials for building projects.
Operating on a philosophy based on professional ethics and high standards, Tuttle Services, Tuttle Construction and Touchstone CPM is driven to deliver successful projects that surpass our customer's expectations and foster long-term business relationships.
An owner's power to determine the success of a project depends largely upon the selected type of project delivery system (PDS). Owners are encouraged to gain as much understanding as possible in order to select the project delivery system most appropriate to their project's needs.
Tuttle offers a range of delivery services to meet any project's needs, including:
General Construction
Construction Management
Design-Build
One of the ways we continue to deliver greater value to our customers is through our dedication and ability to self-perform certain critical trades. By performing fundamental scopes of work, we are able to offer you more control, as well as set the tone and pace of the project. While we believe strongly in the benefits of self-perform work for our customers, we always remain flexible and committed to doing what is best for you and your project.
Tuttle operates a highly skilled and capable workforce. Over the years, the experience gathered by Tuttle's trade professionals has led to a heritage of high-quality workmanship. Tuttle self-performs the following work:
Concrete
Carpentry
Masonry
Steel Erection Our team has helped our clients achieve their facility needs through open and honest communication and continue providing high-quality construction services. Tuttle's client base is very diverse and spans a wide range of business sectors including:
Commercial
Education
Faith-Based
Government
Healthcare
Industrial When you partner with Tuttle, you'll find the experience, expertise, and integrity necessary to manage and complete your next project on time and within budget.
Tuttle Services is more than just builders and construction managers… We are your construction partners.
880 Shawnee Road, Lima, OH 45805
www.Tuttlenet.com
419-228-6262