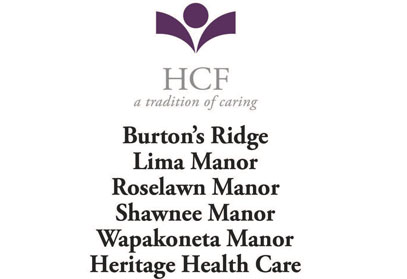 HCF, a family-owned and operated healthcare organization in Lima, recently held its annual Platinum Club celebration across the company. Platinum Club members are those HCF Family of Company employees who have been employed for 20 years or more. Each year the Platinum Club meets to celebrate their impressive length of service and to recognize their
loyalty and dedication to HCF. However, most importantly, to appreciate and respect the many years each member has devoted to providing outstanding care to our residents.
The event is celebrated with a nice meal, a pin, a ribbon for their name tag, a gift, and recognition. During our first Platinum Club celebration in 1998, we celebrated 80 employees with 20 years or more of dedicated service. This year in 2019, we celebrated 368 employees with 20 years or more of service. A handful of employees are now even "double Platinum," with 40 or more years of commitment to the organization. HCF is recognized as a leader in longterm care and is proud of its distinguished record of quality care. This is made possible through the hard work of a large group of caring and dedicated employees who believe in the company's mission. Loyalty, dedication and certainly persistence describe the members of HCF's Platinum Club. We are family and through dedication to duties, we show devotion to the ones we love.
Our sincere appreciation goes out to all employees and especially Platinum Club members for the many years of compassion and loving care is shown to our residents.